Gunther Werks has revealed the next phase of the remastered 993 experience, in the form of the 993 Speedster Remastered by Gunther Werks. In coupe form, the current Gunther Werks creation boasts the fastest lap time for an air-cooled car around Laguna Seca, achieving a time of 1:30.99, but now there's an open-air model to heighten the pure analogue thrills.
In revising the current 993 chassis to accommodate an open cockpit, Gunther Werks has taken extensive steps to avoid the common side effect of removing the roof, which typically reduces torsional rigidity. Stiffening the chassis has been extensively undertaken by employing advanced reinforcement in the space where the coupe's rear seat compartment was previously located, concealed by the new carbon fibre Speedster top and tonneau cover. Integrating a new roll cage and roll hoop system also contributes to chassis stiffness while improving occupant safety. Customers have the choice of several forged Gunther Werks wheel options, and now have the choice to upgrade to revised Fuchs-style five-spoke wheels which feature center locking mechanisms to improve strength while reducing unsprung weight.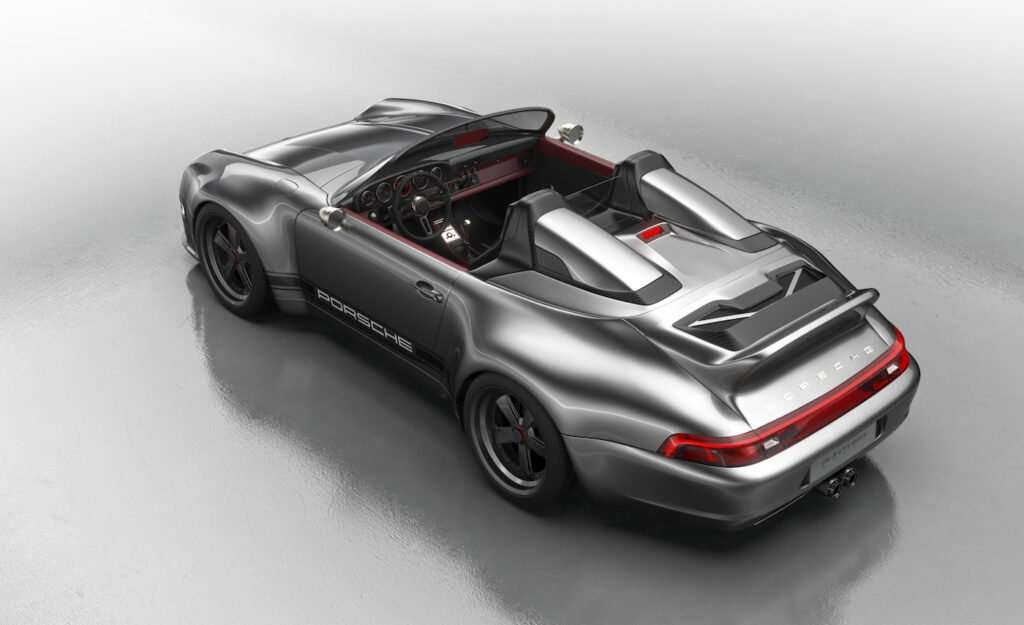 Additional exterior enhancements include a lower rake glass windscreen, with an option to delete the glass entirely. Updated front fascia now integrates a carbon fiber front spoiler to improve style and aerodynamics, and a new lightweight single-skin bonnet is more than 25% lighter than the Gunther Werks coupe's current double-sided coupe hood. Under the bonnet, Gunther Werks has redesigned the carbon fiber panels to make the storage area more maintenance-friendly. The rear of the Speedster features a revised duck tail spoiler with a ram air scoop and all-new 3D-printed Inconel exhaust tips. Other exterior upgrades include billet aluminum side view mirrors, streamlined aluminum lightweight door handles that replace the factory steel units, an updated front led reflector system with a 3D-printed housing with a CNC-machined acrylic lens that preserves the factory shape. For storing and washing the Speedster, Gunther Werks crafted a soft weather-proof cover.
Interior improvements are comprehensive, with a new carbon fiber dash panel with LED shift lights, an updated aluminum center cluster trim that's built from a single piece of aluminum, a redesigned pedal assembly with a new arm and more ergonomic positioning than the OEM assembly, and a revised carbon fiber floor panel system. To accommodate the lower windscreen, new Gunther Werks-designed and developed hollow carbon fiber seat shells feature lightweight cushions applied directly to carbon shell while lower seat placement reduces drag and lowers the center of gravity. The new seats offer flexibility to fit optional 5-point harnesses. New weather-resistant interior material selections for seats and dash are also available as options.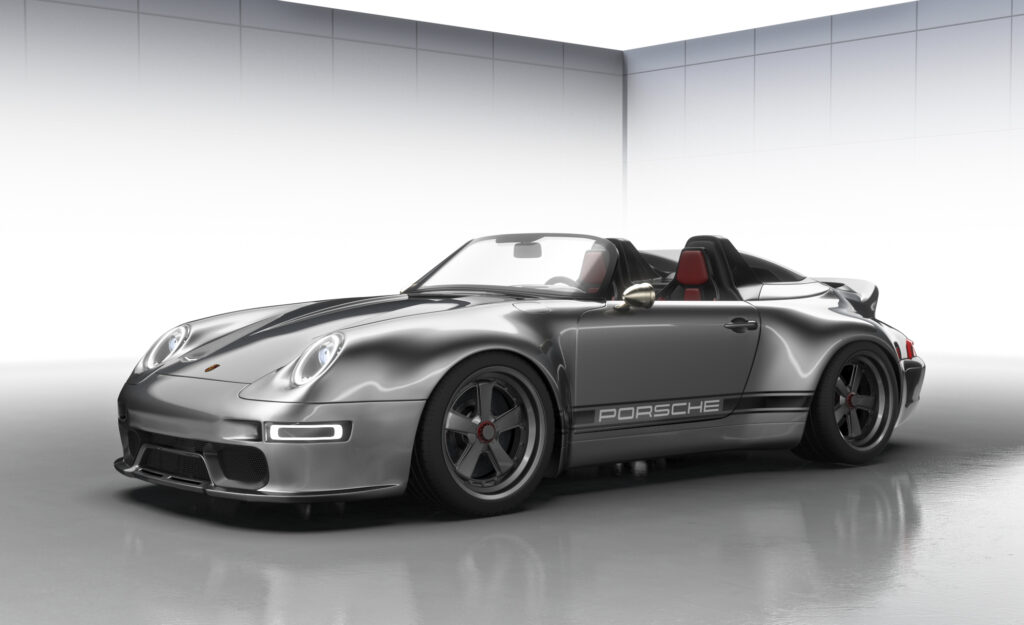 The new 993 Speedster Remastered by Gunther Werks also includes several performance upgrades which include remapped engine tuning to give a modest horsepower and torque increase over the current 435 BHP and 335 lb-ft of torque in the 4.0-liter flat-six engine that's rebuilt by Rothsport Racing. As part of Gunther Werks' continued partnership with Eisenlohr Racing, the Speedster features revised lightweight suspension uprights to reduce weight and improve handling, which works in harmony with an all-new, advanced dynamic suspension from JRZ.
As Gunther Werks' production of coupe commissions is limited to 25 examples, Gunther Werks plans to commission only 25 Speedsters. An official unveiling of the 993 Speedster Remastered by Gunther Werks is scheduled for August 2021 in California, and customer production is planned to begin in early 2022, after the coupe commission production is concluded.