When I designed the GMA T.50, I set out to create the ultimate road-going supercar, but I always dreamed of taking it one step further. We'd found out what the most extreme road-going car we could create looked like, but now it was time to turn our attention to the race circuit. That's why I designed the T.50s Niki Lauda – a car to deliver an on-track experience like no other.
You're seeing this car today for the very first time on Niki's birthday. He was a great friend of mine, an enormous inspiration and one of the world's greatest ever driving talents – I know he would have appreciated what we've done with the T.50s.

Like the T.50, the T.50s Niki Lauda is honed tightly to its purpose. In this case, its purpose is not just to be fast around a circuit, but to be thrilling, and to be accessible enough for all levels of driver to enjoy it. It's a showcase of the very latest advancements in aerodynamics, combustion technology and lightweighting; a formula that combines a 3.9-litre naturally aspirated V12 engine revving to over 12,000rpm, a central driving position and a weight of just 852kg. I don't think I'm being dramatic in saying there may never be another car like this again.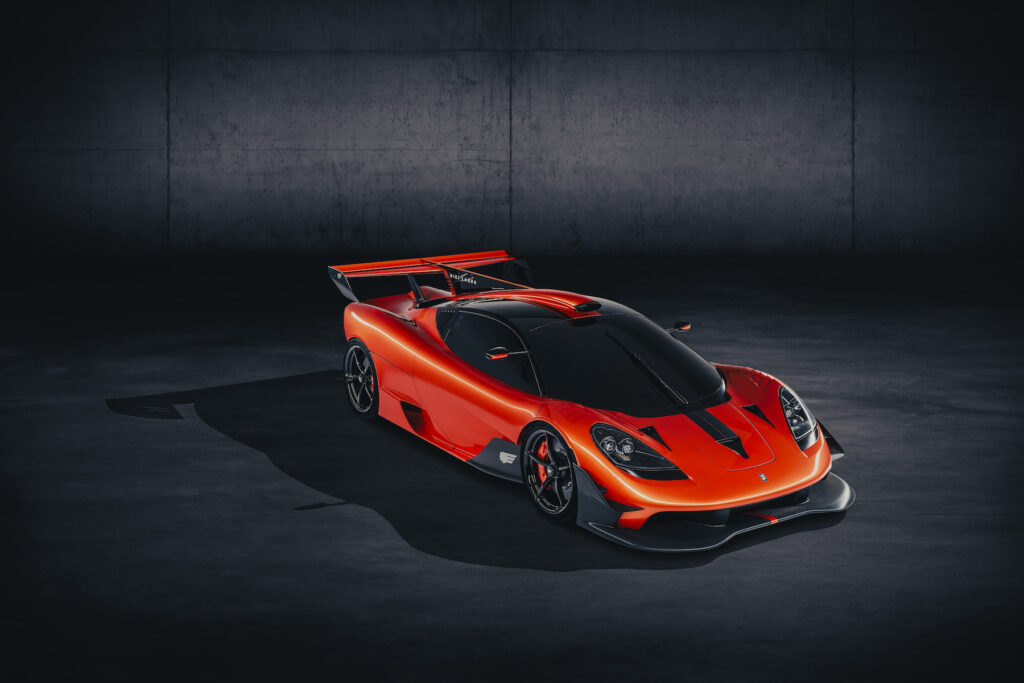 To give you some kind of comparison of the performance we've managed to achieve, the Niki Lauda has a better power-to-weight ratio than a naturally aspirated LMP1 car. In fact, Audi's Le Mans-winning R18 e-tron quattro hybrid weighs in at 915kg and the maximum weight of a modern F1 car with fuel and driver is 740kg, so we're most certainly in the arena of dedicated world-class motorsport machines here.

The difference, of course, is that we've been careful to ensure the car's performance can be exploited by drivers of different abilities and experience levels – not everyone will need Niki's natural precision and technical ability to make the most of the car that bears his name. To give you an example, at one point we were achieving 1,900kg of downforce, but we backed it off to 1,500kg to make it more manageable. Even so, it will still pull 2.5g through the corners.

The T.50s Niki Lauda's aero package includes a rear-mounted delta-wing. I took inspiration for this from the front wing on the Brabham BT52 Formula One car I designed – it proved to be just as effective today as it was in 1983. The ground-effect fan and diffusers have been optimised for high downforce only, and a central fin improves yaw stability. No other car offers this kind of advanced aerodynamic package.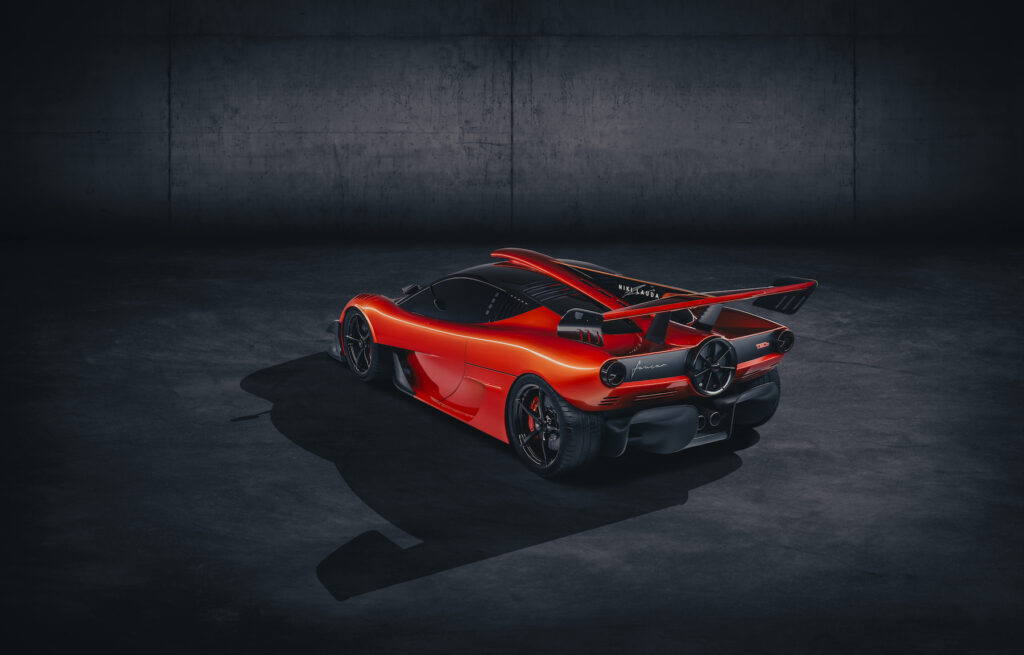 We've done so much more than just alter the aerodynamics of the T.50, though. The induction system on the Niki Lauda, for instance, is massively different. There are 12 throttle bodies straight on top of the engine with a racing style air box that feeds them directly, which is a lighter system compared to the T.50's.
We've also removed the catalytic converters and put the exhaust pipes close together, the pulses shoot out at about 45 degrees and mix together. It sounds like double the revs. And the silencers are much smaller because we only have to meet track noise limits.
I hope you'll agree that while the Niki Lauda's exterior is completely aero-driven, it has an inherent beauty to it as is often the case when form follows function. Yes, it's dramatic, but the T.50's classic shape still shines through. Where the 25 individuals who order these cars go from here, is something I'm very excited to see. Each car will be suited to the driver in terms of its set up; this is essentially their very own racing car, just as two F1 drivers might have different set ups, so it's only right they create a look that's their own, too.
As for the interior, I've always believed visibility and comfort are important – even in a racing car. Looking back at the guys racing in the McLaren F1 at Le Mans, I'm sure the driving position helped them maintain their focus for such long periods. As a result, the T.50s focused, but not at the expense of comfort. The visibility is going to be the same as the road car and the central driving position is just about as good as it gets.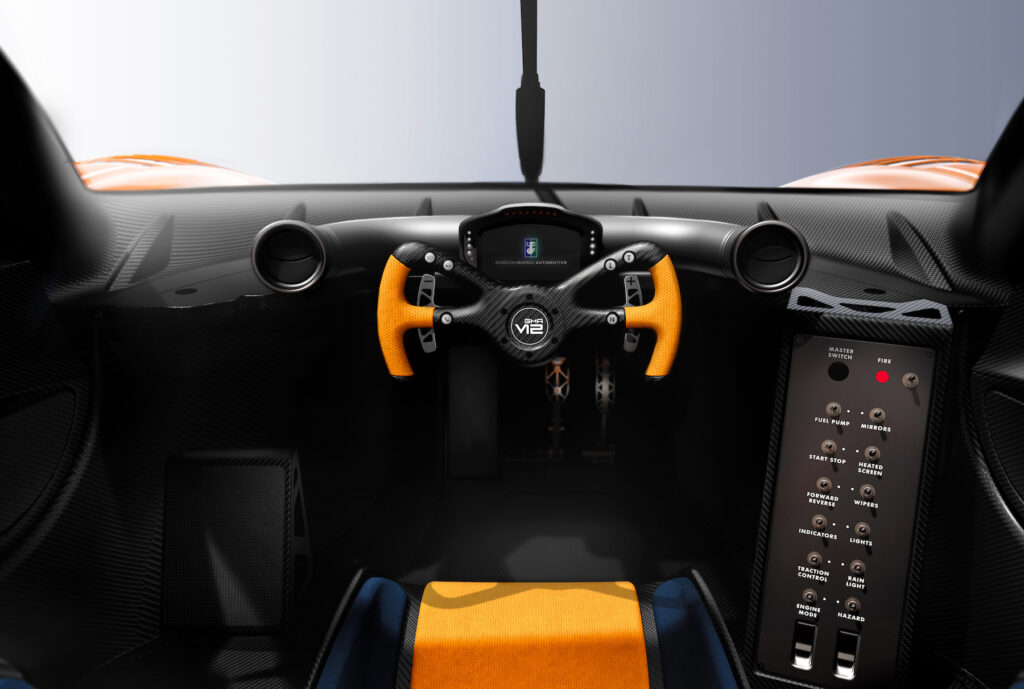 We've also kept the instruments really simple and there's not too much on the steering wheel – just the main controls. I don't like big, cluttered steering wheels because they are quite heavy from a steering inertia point of view. It's the same reason I used to make my drivers take their watches off.
Ultimately, though, all of this innovation means nothing if the owners can't make the most of it on a track. That's why we're providing a Trackspeed package, which includes all the equipment and support needed to run the car. As part of this, we will tailor the chassis and aerodynamics of each car to suit its owner.
I am talking to Stephane Ratel and his SRO organisation about creating a GT1 sports club to run exclusive track days for T.50s Niki Lauda owners on some of Europe's most famous circuits. We would also like to create a supercar race series in future…
All this means you will be able to turn up at a circuit, check the tyre pressures, start the engine, warm the oil up and thrash the car round until the fuel runs out. For me, that's what track driving should be about.