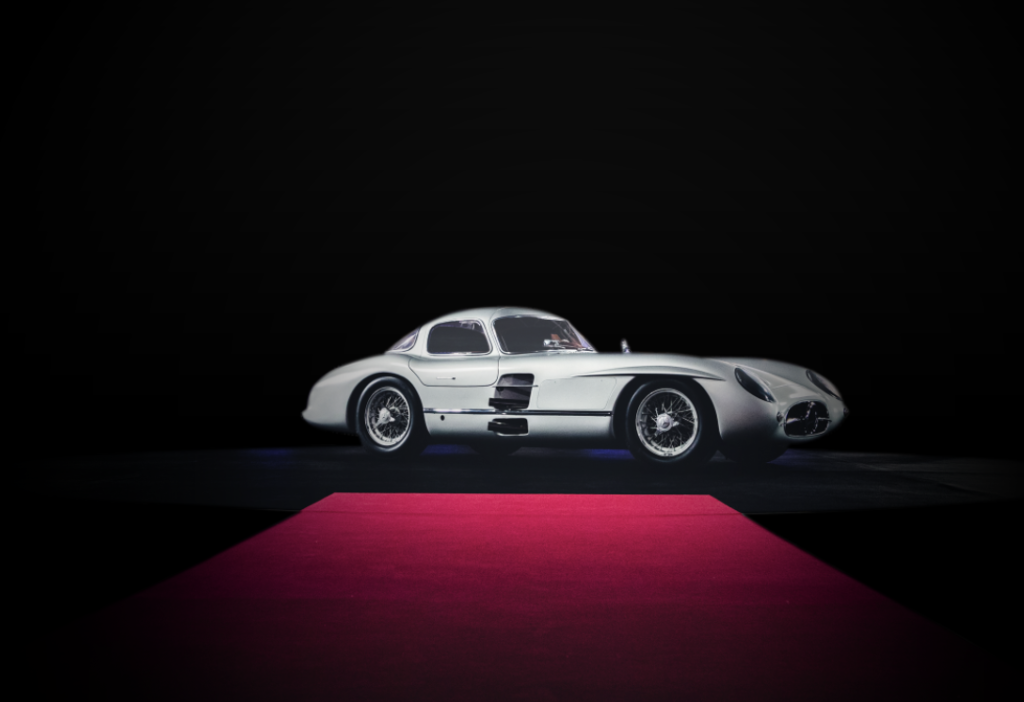 You may have heard the swirling rumours of the collector car market in recent days, talking of a new 'world's most expensive car'. And as of just a few moments ago, LaSource can bring you the news officially; a 1955 Mercedes-Benz 300 SLR Coupé has been sold for $142m at a private auction hosted at the Mercedes-Benz museum in Stuttgart. Bought by Simon Kidston on behalf of an unnamed client, the sale isn't merely an advancement on the previous record, it's an entirely new paradigm.
A Ferrari 250 GTO reportedly exchanged hands privately for around $75m in the past five years, and in the past couple of years the original Rolls-Royce 'Silver Ghost', known by its registration plate 'AX201', was apparently sold for a sum far exceeding that. This latest record price serves to unequivocally supersede them both, and by quite some margin. The car was sold directly by Mercedes-Benz, using RM Sotheby's as a partner, with every single cent of the sale price going towards a charitable fund set up by Mercedes to benefit young people.
In a way, it's no surprise that the car sold for such an enormous sum. Not withstanding the current market conditions of 10% inflation – in which a tangible asset investment like this makes a lot of sense – it was also widely considered that the car would never appear for sale at all. The only two existing examples are owned by Mercedes-Benz and there was very little reason for them to ever part with them. Visitors to the Mercedes-Benz Museum will have seen one example proudly on display, while the recently sold example was maintained in one of Mercedes' storage vaults. To those not overly familiar with Mercedes' history, the sight of the 300 SLR 'Uhlenhaut' Coupé at the museum is always an unexpectedly beautiful and menacing take on the elegance of the standard 300SL Gullwing.
Commissioned by chief of Daimler-Benz motorsport Rudolf 'Rudi' Uhlenhaut, the 300 SLR Coupé is a closed cockpit racer based on the W196 S 300 SLR open top two-seater made famous by Stirling Moss' legendary victory at the Mille Miglia. Never intended to find its way into private hands, it is a thoroughbred racing car, powered by a 302bhp, 3.0-litre straight-eight of great complexity.
The Coupé never actually raced – this was around the time of the Le Mans 1955 racing disaster – but a road test conducted by Autocar in period clearly had quite a profound effect on the writer, who said: "To have driven it has eclipsed all previous experiences in 20 years of test driving on the world's finest cars, and I do not expect to find its match for a long time to come."
The sale itself is an interesting exercise in human psychology and – for the more cynical among us – corporate positioning. A sale such as this likely represents the one single time that this car will become available in a buyer's lifetime. There will be no second chance to try again, all money needs to be on the table first time around. And because it is so untouchable it's instantly desirable – were these cars traded around a number of times over the past few decades their allure would a fraction of what it is.
From Mercedes' point of view, they now have the cachet of being associated with the most expensive car in the world. There appears to be a very deliberate shift back into ultra-luxury from Mercedes, and to have so effortlessly dethroned Bugatti, Ferrari or Rolls-Royce certainly can't harm its future ambitions. And even with the sale, they remain in possession of the other 300 SLR Coupé alongside a number of other competitors for world's most valuable car – Sir Stirling's famous '722' 300 SLR among them.
Sales like this are carefully handled to ensure that the car remains in the very best care. The new owner of the Coupé will be a passionate collector, committed to maintaining this piece of Mercedes history to the same meticulous standards as the manufacturer itself. It will likely be proudly shown around the world, the centerpiece display of some of the world's most famous concours d'elegance events, organically building a legend that will last for decades.
For the collector car market in general, it's a sure sign that there is no sign of a slowdown at the very top end. An exclusive list of bidders was in attendance for the sale of this car, and many of them were willing to bid over $100m. Such overt public displays of the buoyancy of the market are rare – most transactions take place in extreme privacy – but many manufacturers and owners won't be able to ignore such a momentous sale. I wonder what Ferrari and Bugatti may have hidden away in collections that could potentially find their way onto the market in future…