THORNLEY KELHAM
LaSource is proud to represent Thornley Kelham, one of the most well-respected restorers of rare and spectacular vehicles in the industry, having won most of the major international concours d'elegance events on at least one occasion, despite only being founded in 2008.
From bespoke engine builds for the road and the race track, to millimetre-perfect bodywork and lustrous, deep paint finishes, there is virtually no process not carried out in-house at their headquarters in the Cotswolds, UK. The following Petrolicious video gives further insight not only into Thornley Kelham's capabilities but also their unwavering dedication to perfection in every detail: Thornley Kelham: Full Restoration – YouTube
Alongside the restoration business, Thornley Kelham has a growing bespoke division, borne from over a decade of restoring rare vehicles from the ground-up during thousands of hours of intricate work by hand. These bespoke masterpieces were launched with the Aurelia Outlaw project, of which nine will be built in total, with more than half of those already sold.
The aluminium airbox? That's bespoke. The exhaust manifolds and exhaust system? Bespoke. Aluminium radiator? Bespoke. The competition fuel tank? Take a wild guess.

Top Gear Magazine
The details draw you in, too. The bonnet is locked shut with intricate alloy catches, door mirrors are perched delicately on the A-pillars and the flip-up Monza fuel filler looks achingly beautiful. Much of the brightwork has been deleted, or finished in polished nickel rather than chrome. Panel gaps are perfect and the finish is faultless.

Car Magazine
THE HISTORY
It is perhaps unsurprising that the first Outlaw was commissioned by a collector in California, his inspiration coming from the famous restoration of Bracco's Mille Miglia Class winning B20GT restored by Thornley Kelham in 2015. It is perhaps the most famous Aurelia in the world, and possibly the most famous Lancia ever due to its enormous race success and its unique lowered roof – discovered by Thornley Kelham to have been a factory aerodynamic enhancement.
Chassis B20-1010, one of 490 first series cars, came second in the 1951 Mille Miglia a matter of days after leaving the factory. This was followed by a class win (by over a lap) at Le Mans that year, then various Italian race wins, including the Pescara, and in November of that year, entry into the second Carrera Panamericana. In all cases, it was driven by Giovanni Bracco, a wealthy privateer with close connections to Gianni Lancia. Unfortunately, it crashed out on the fourth day of the Panamericana, having been in a strong position.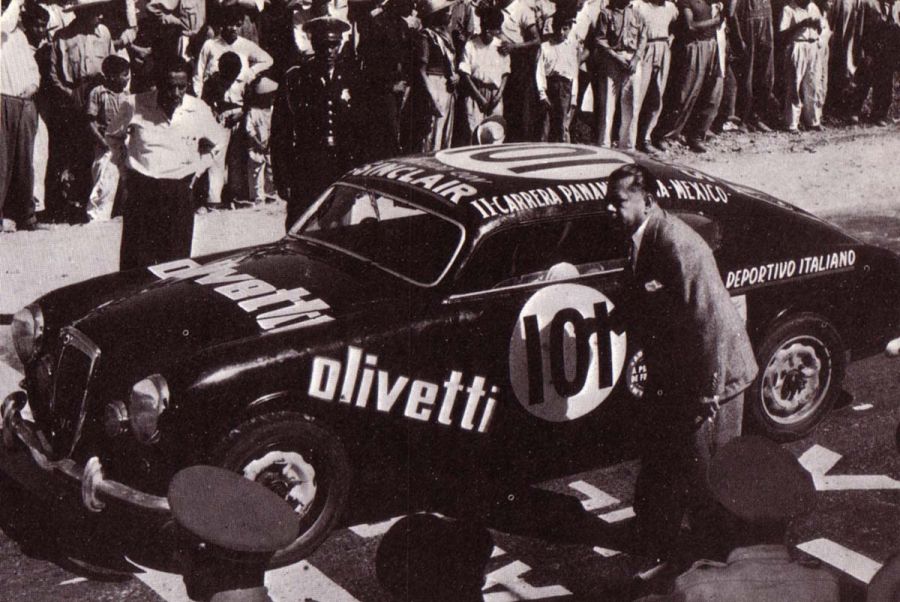 It was subsequently sold by Bracco to a Mexican architect, Peredo, who rebuilt the car and drove it in the '52 race, finishing 9th in class. The car then disappeared into obscurity, only to be rediscovered over 60 years later when it was sent to Thornley Kelham for restoration and display on the fairways of Pebble Beach in 2015.
The fascinating story behind the car's wins at both Le Mans and the Mille Miglia, and how the streamlined roof came into being for the Panamericana can be found in the following link. 1951 ex-Mille Miglia, ex-Le Mans, Lancia Aurelia B20GT » Thornley Kelham
THIS MOTORCAR
The process of creation for an Aurelia Outlaw takes around 5,000 hours, beginning with an Aurelia that is uneconomical to restore, and saving it in the most spectacular way. The bespoke visual upgrades are clear to see in the imagery but the mechanical upgrades are just as impressive. A Flaminia V6 is fitted, bored out to 2.8 litres, fuel-injected with a hotter camshaft, bespoke aluminium pans and trumpets and a custom exhaust, with power leaping to 175bhp, compared with 118bhp in a standard Aurelia. Nitrogen-filled lowered suspension is fitted, along with disc brakes all-round. And these upgrades are just the beginning, with remaining commissions offering even more focused performance if necessary.
Sitting in that beautiful cabin, surrounded by leather and outsized analogue dials, your feet dancing across drilled pedals, there's a magic here you simply don't find in a contemporary car.

GQ Magazine
To find out more about commissioning one of the remaining build slots kindly contact us and we will introduce you to Thornley Kelham and help you with the process.
Further information can be found at http://www.fuorilegge.co.uk/ (Italian for Outlaw)
POA